As Turkey prepares to go to the polls on Sunday in a pivotal election, president Recep Tayyip Erdoğan is distributing gifts. In the weeks before the vote, he declared that Turkish citizens would enjoy free natural gas, raised the salaries of public sector workers by 45% after an initial rise earlier this year, and even declared that Turkey had struck oil.
A new gargantuan grey warship docked in Istanbul over a recent holiday weekend, inviting citizens to walk on deck and enjoy the splendour of Turkey's new high-tech future.
After initially promising a quieter election campaign following a deadly earthquake that killed more than 50,000 people in Turkey just three months ago, Erdoğan changed tactics after many polls suggested that opposition challenger Kemal Kılıçdaroğlu is in the lead.
At a mass rally in Istanbul last weekend, the president broadcast an alleged deepfake video showing a group of banned Kurdish militants expressing their support for his competitor, both of which he regularly portrays as enemies of the state. "This is very important," he told the assembled crowd.
At the ballot box, the choice confronting voters is stark. Erdoğan, who leads the AKP party, has promised a "century of Turkey", a grand vision that contains much of the supercharged nationalism and populist rhetoric that has allowed him to keep his grip on the country.
Turkey's opposition, led by Kılıçdaroğlu, campaigned on the promise that "spring will come again", pledging to overhaul Erdoğan's policies that have reshaped the country throughout his two decades in power: chief among them a return to parliamentary democracy.
The opposition's proposals for change are a reaction to 20 years of Erdoğan's rule. "No one really knows what a post-Erdoğan Turkey would look like in reality," said James Ryan of the US thinktank the Foreign Policy Research Institute.
A vast and rapid reconstruction plan that would reshape much of the country's south destroyed during recent earthquakes formed a central plank of Erdoğan's campaign for re-election. Just a few weeks after buildings were levelled across the town of Nurdağı, mechanical diggers clawed at the earth to build foundations on the town's outskirts, extending existing government housing for hundreds sleeping in tents near their destroyed homes.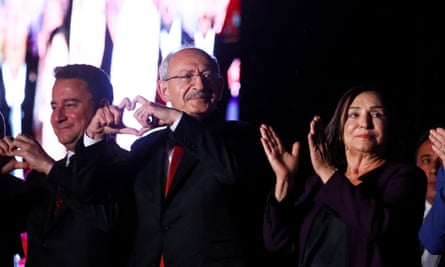 "Our aim is to raise up the earthquake zone," Erdoğan told survivors a month after the quakes, adding that the government would built 319,000 homes within the first year, and 650,000 in total.
Construction and infrastructure formed the backbone of Erdoğan's two decades in power, projecting the presence of the state through smooth roads, new airports and vast new buildings in even the smallest Turkish towns – amid accusations of widespread corruption in the construction industry.
For some of the millions displaced by the quakes, the government's promises of fast solutions meant little. Almost a month after she and her family of four were displaced from their home in the southernmost province of Hatay, Elise Aslan grew frustrated with officials from Turkey's disaster relief agency, AFAD, when they tried to outline her payment options for government housing. "This isn't going to be done within a year," she told them.
The officials tried to reassure her. "In a short time, hopefully everything will be OK," they said.
For observers, Erdoğan's promises of swift reconstruction form the core of efforts to shift public attention away from the devastating earthquakes, as well as any lingering questions about his government's lacklustre response in a crisis.skip past newsletter promotion
Archie Bland and Nimo Omer take you through the top stories and what they mean, free every weekday morning
after newsletter promotion
"He is using his complete control of the media to change the narrative," said analyst Soner Cagaptay of the Washington Institute for Near East Policy, who has written multiple books on Erdoğan.
"He can curate the news to create a post-truth reality, build news based on lies so people forget they were lies to begin with," he said. "It's very scary – if Erdoğan wins, it will be the first victory globally for post-truth politics, an election completely won on lies."
Analysis by Turkey's broadcast watchdog found that the president was afforded more than 32 hours of coverage on one state channel, while his competitor had just 32 minutes.
Meanwhile, Turkish fact-checking organisation Teyit said it had identified misinformation circulated by both Erdoğan and the opposition, including cheap replicas of deepfake videos they labelled "cheapfakes".
"During this election cycle, we encountered nearly 150 examples of false information, ranging from television broadcasts and misinformation on social media to politicians' own statements," said Can Semercioğlu of Teyit.
In a deeply polarised country, Erdoğan's control of the media and his promises that he can fix anything broken during his rule have found willing ears, including claims that only he is capable of remedying an economic crisis caused by his unorthodox policies.
"So far there has been nothing that our state has been unable to solve or accomplish," said 33-year-old Yunus Özbaysal, speaking while out campaigning for the AKP in Istanbul.
He added: "Our leader has kept every promise he made. We are certain that he will keep his economic promises, too."
You've read 29 articles in the last year
Article counton
The free press is under attack from multiple forces. Media outlets are closing their doors, victims to a broken business model. In much of the world, journalism is morphing into propaganda, as governments dictate what can and can't be printed. In the last year alone, hundreds of reporters have been killed or imprisoned for doing their jobs. The UN reports that 85% of the world's population experienced a decline in press freedom in their country in recent years.
As you join us today from Indonesia we hope you will consider supporting us in our efforts to do something about this. Despite the financial challenges plaguing the media industry, we've decided to keep our journalism paywall-free, because we believe everyone has the right to high-quality, fact-checked reporting. And we maintain our independence thanks to generosity from readers all over the world, who understand that supporting the free press is an investment in an informed and empowered public.
Unlike many others, we have no billionaire owner – this helps us maintain the freedom to fearlessly chase the truth and report it with integrity. Your support will allow us to continue to work with trademark determination and passion to bring you journalism that's always free from commercial or political interference. 
Source : The Guardian