Ukraine's long-awaited counter-offensive to retake territory from Russia's occupying forces is under way.
Here are the latest developments:
Ukraine's counter-offensive is continuing in the eastern Donetsk and south-eastern Zaporizhzhia regions but President Zelensky has acknowledged progress is "slower than desired"
The UN has warned drinking water supplies could be affected for more than 700,000 people after the destruction of the Kakhovka dam in southern Ukraine
Russia has continued missile and drone attacks and says it has moved tactical nuclear weapons to neighbouring Belarus

Slow gains in counter-offensive
Ukraine has continued its counter-offensive operations and says its forces are making gains – although President Volodymyr Zelensky has acknowledged battlefield progress has been "slower than desired".
Officials say they have taken eight settlements in the eastern Donetsk region and southern region of Zaporizhzhia and at least 113 sq km (44 sq miles) since starting their counter-offensive on 4 June.
Mr Zelensky said the military push was not going easily because 200,000 sq km (77,220 sq miles) of Ukrainian territory had been mined by Russian forces.
Fighting is also continuing around what is left of the eastern city of Bakhmut – most of which is under Russian control after the longest and possibly bloodiest battle in the war – with Russia conducting limited ground attacks near the city.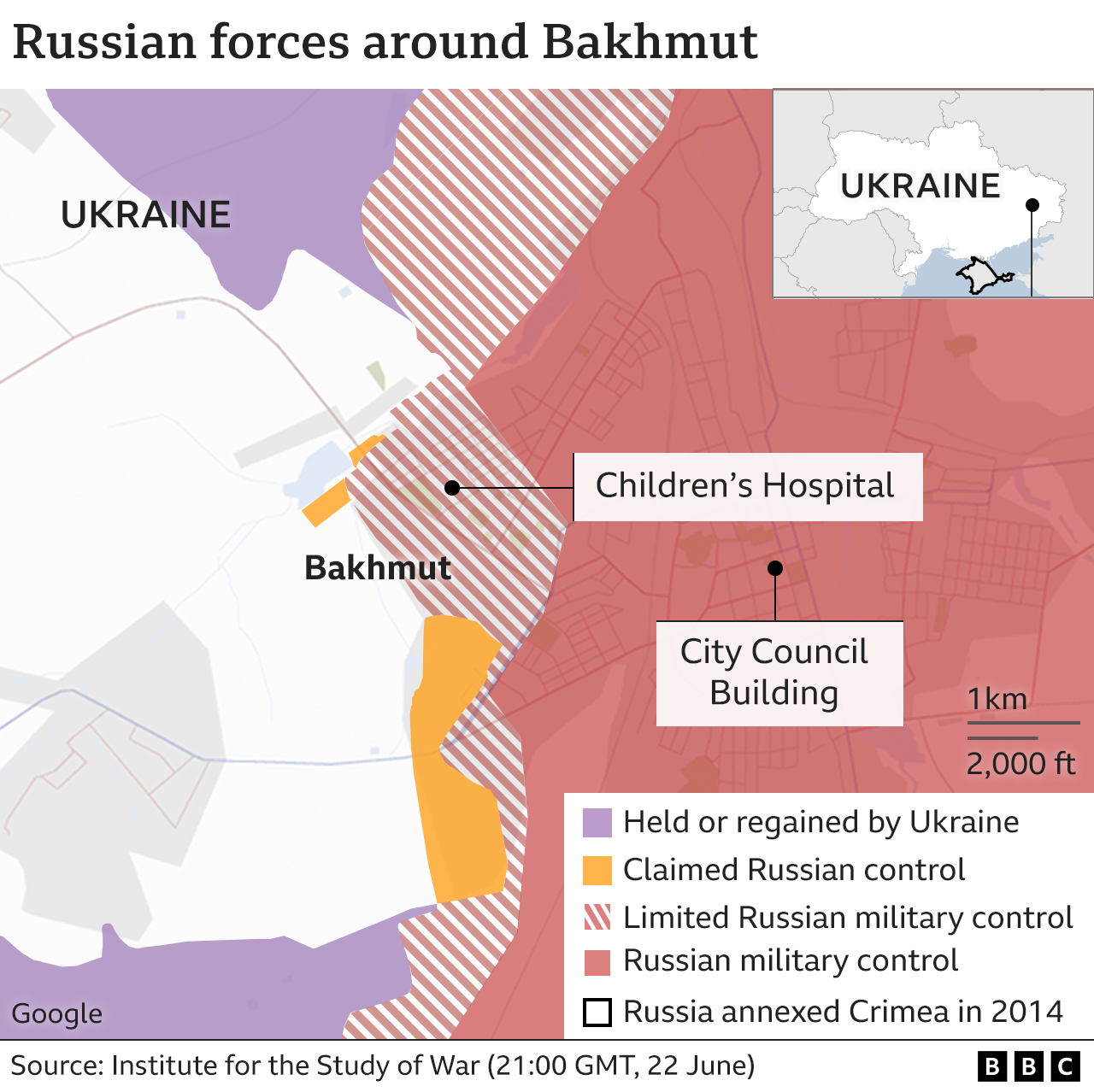 Analysts at the US-based Institute for the Study of War (ISW) said Ukrainian forces had recently made limited advances in the area south-west of Bakhmut.
They also note that Ukrainian forces may be intensifying efforts to strike Russian ground lines of communication in southern Ukraine.
It follows claims from Russian officials that Ukraine has attacked a bridge linking Ukraine to the Crimean peninsula, which Russia annexed in 2014, with long-range British missiles.
The two parallel Chonhar bridges – the shortest route from Crimea to the front line in the south – were both damaged, the Russian-installed governor in the occupied Kherson region said. However, he added they would be repaired quickly and that no-one had been hurt.
The crossing is an important link to the occupied city of Melitopol, which lies on the coastal route from the Russian border across southern Ukraine to Crimea and is thought to be one of the targets of Ukraine's counter-offensive.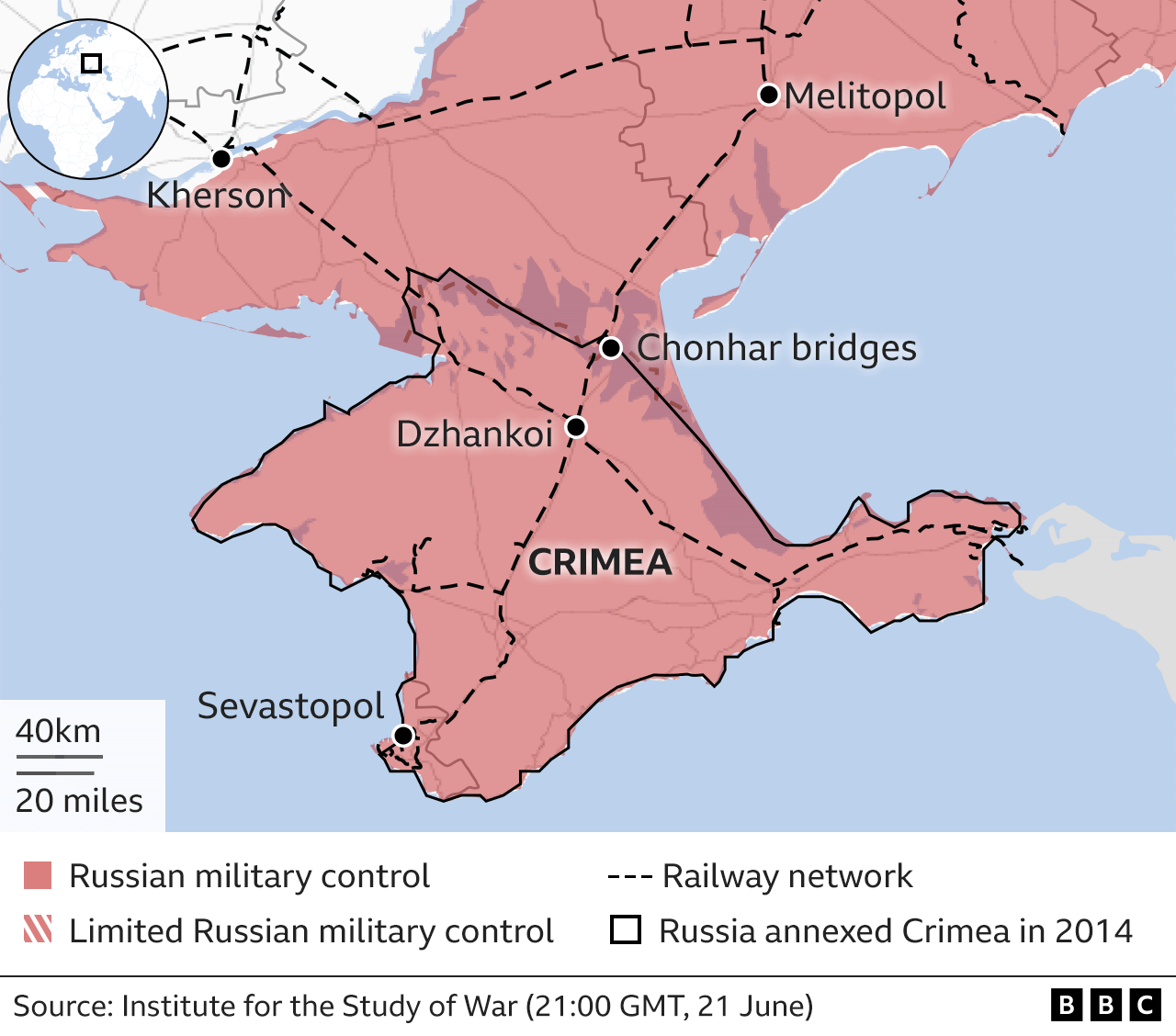 Drinking water fears after dam breach
Ukraine's operation in the south was made harder when the Kakhovka dam on the Dnipro river was destroyed this month in a suspected Russian sabotage attack.
Dozens of people died after areas downstream of the dam were flooded.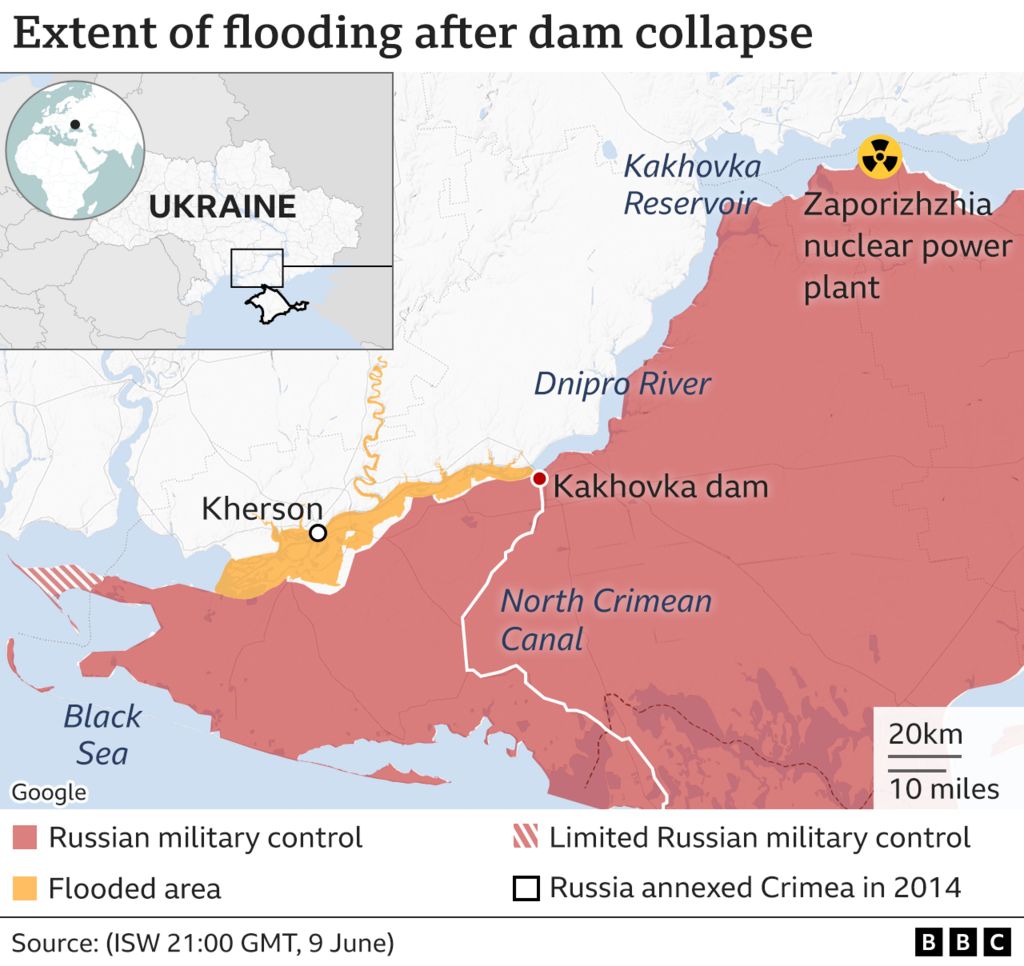 Since the dam collapsed, water levels in the Kakhovka reservoir behind it have plummeted and satellite images – analysed by BBC Verify – show four canal networks have become disconnected from the reservoir.
The canals are a source of drinking water to large parts of southern Ukraine and also provide irrigation for vast areas of farmland.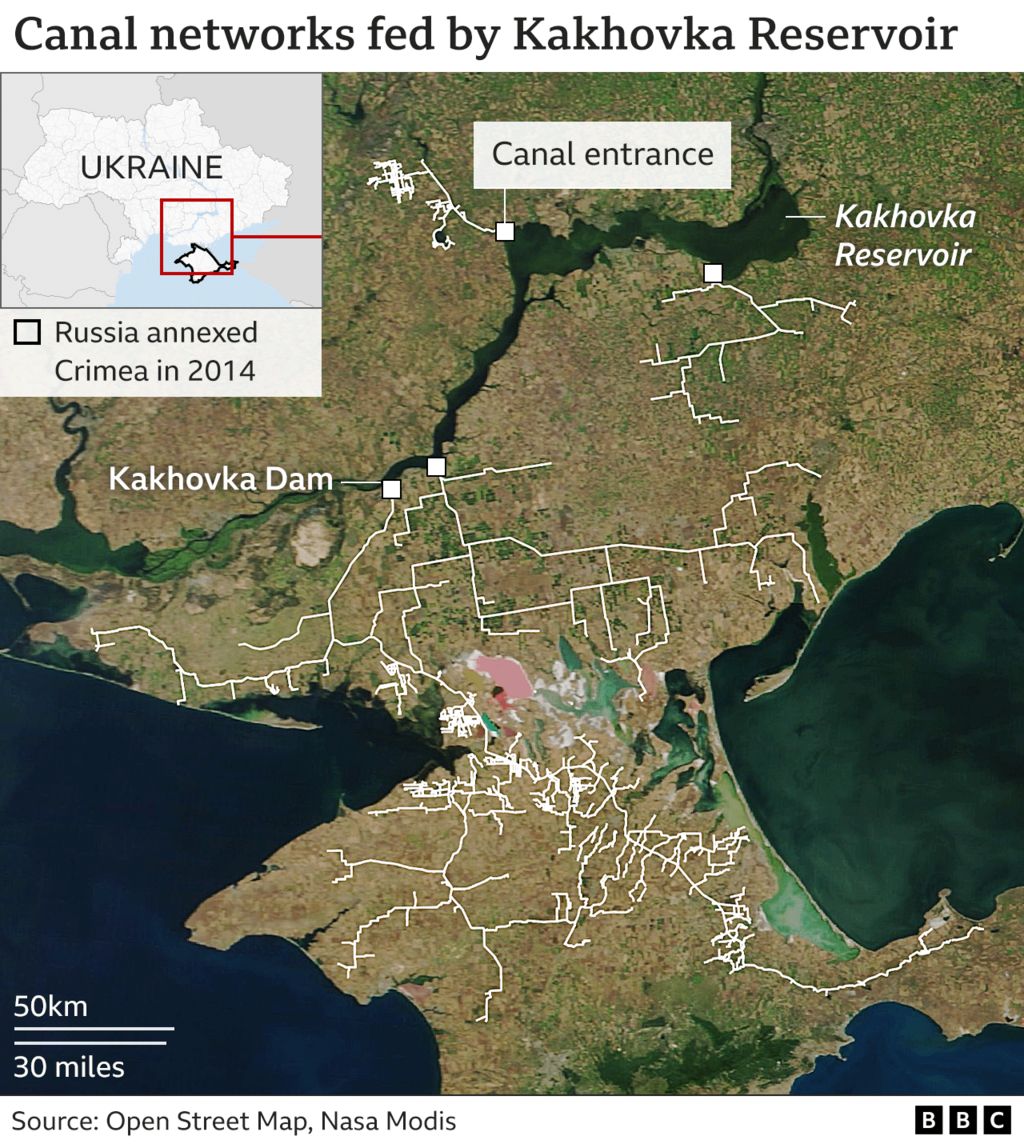 The UN says drinking water supplies could be affected for more than 700,000 people, mostly in Russian-occupied areas. There are also concerns about food production in the region.
Tactical nuclear weapons in Belarus
Meanwhile, Russia has continued to target Ukrainian cities this week with missile and drone strikes, including on the capital Kyiv, Lviv in the west, and Zaporizhzhia and the port of Odesa in the south. A residential area of President Zelensky's home city of Kryvyi Rih was also hit.
Russia has also announced that it has moved tactical nuclear weapons to neighbouring Belarus and US President Joe Biden has warned that the threat of Russian President Vladimir Putin using them is real.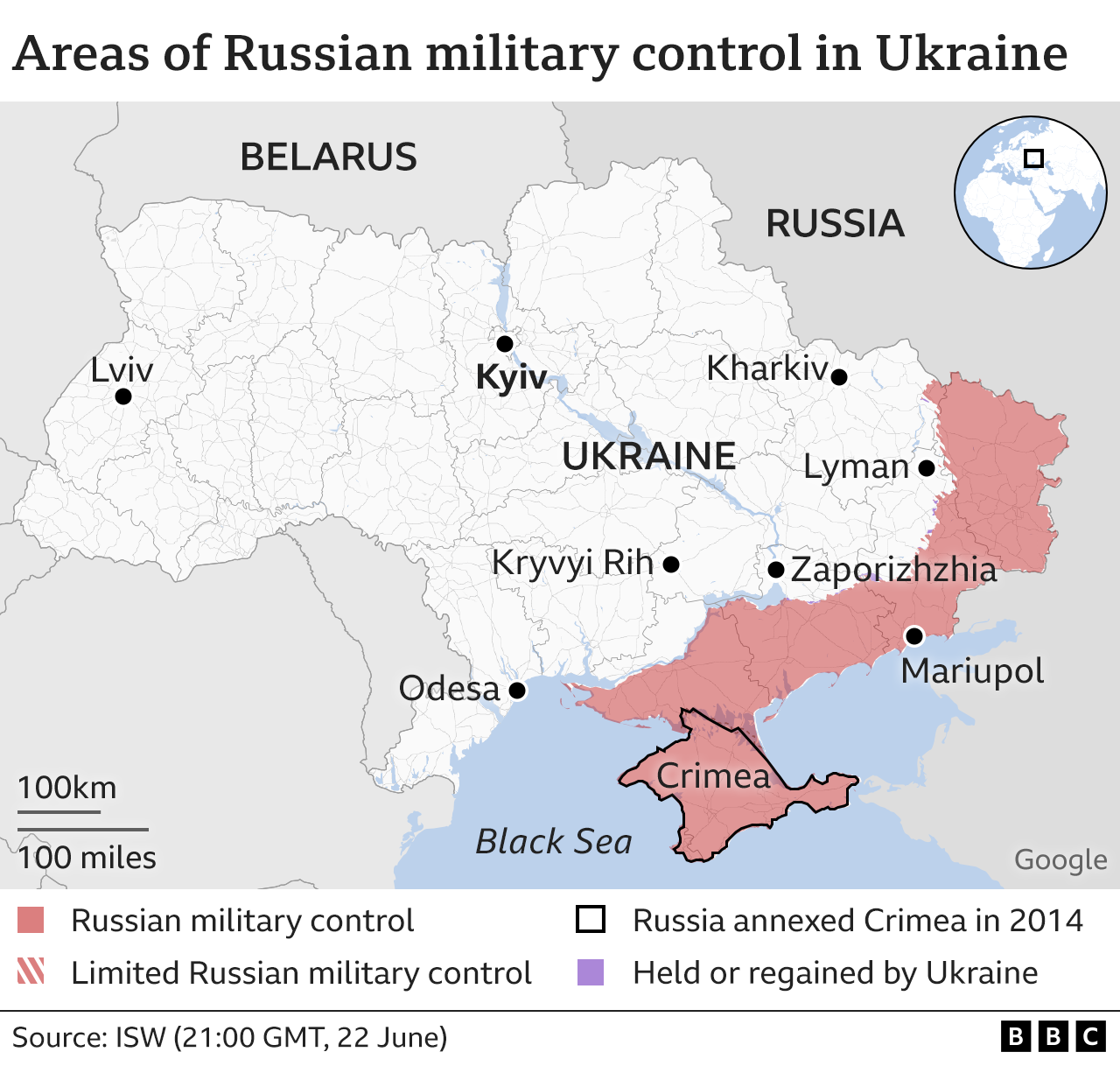 More than a year of fighting
Russia's invasion began with dozens of missile strikes on cities all over Ukraine before dawn on 24 February 2022.
Russian ground troops moved in quickly and within a few weeks were in control of large areas of Ukraine.
They had advanced to the suburbs of Kyiv, and controlled much of the north-east of the country around Sumy.
Russian forces were bombarding Kharkiv, and they had taken territory in the east and south as far as Kherson, and surrounded the port city of Mariupol.
But, they hit very strong Ukrainian resistance almost everywhere and faced serious logistical problems with poorly motivated Russian troops suffering shortages of food, water and ammunition.
Ukrainian forces were also quick to deploy Western supplied arms such as the Nlaw anti-tank system, which proved highly effective against the Russian advance.
More Western arms followed and by October the picture had changed dramatically – having failed to take Kyiv, Russia had withdrawn completely from the north.
Ukraine had its first major success, pushing Russia back from Kharkiv, and counter-attacking around Kherson and eventually regaining control of the city.
More than a year since the invasion, Ukraine is now hoping its latest counter-offensive can turn the war in its favour.
By David Brown, Bella Hurrell, Dominic Bailey, Mike Hills, Lucy Rodgers, Paul Sargeant, Alison Trowsdale, Tural Ahmedzade, Chris Clayton, Mark Bryson, Zoe Bartholomew, Sean Willmott, Sana Dionysiou, Joy Roxas, Gerry Fletcher, Jana Tauschinsk, Debie Loizou, Simon Martin and Prina Shah.

About these maps
To indicate which parts of Ukraine are under control by Russian troops we are using daily assessments published by the Institute for the Study of War with the American Enterprise Institute's Critical Threats Project.
To show key areas where advances are taking place we are also using updates from the UK Ministry of Defence and BBC research.
The situation in Ukraine is often fast moving and it is likely there will be times when there have been changes not reflected in the maps.
Source : BBC