Russia has shelled Ukraine's Kherson region where about 600 square kilometres is underwater after the destruction of the Nova Kakhovka dam.
Key points:
Ukraine says 68 per cent of the flooded territory is on the Russian-occupied left bank of the Dnipro River
Evacuations are continuing "despite the immense danger and constant Russian shelling"
Russian media reports about 14,000 houses have been flooded and 4,300 people had been evacuated
The dam, which sits on the Dnipro River on the front line between Ukrainian and Russian-controlled territory, burst on Tuesday.
Russia and Ukraine blame each other for the destruction.
Governor Oleksandr Prokudin said on Thursday 68 per cent of the flooded territory was on the Russian-occupied left bank of the Dnipro River.
The average level of flooding in the Kherson region on Thursday morning was 5.61 metres, he said.
"We're already working. We will help everyone that has ended up in trouble," he said.
The flooding caused by the collapse of the dam is about 60 kilometres upstream from Kherson.
"Despite the immense danger and constant Russian shelling, evacuation from zones of flooding is continuing," Mr Prokudin said.
He said almost 2,000 people had left flooded territory as of Thursday morning.
Meanwhile, Russian state-owned news agency TASS reported about 14,000 houses have been flooded and 4,300 people had been evacuated, citing the country's security services.
Ukrainian President Volodymyr Zelenskyy said in a video address late on Wednesday that it was impossible to predict how many people would die in Russian-occupied areas due to the flooding.
Mr Zelenskyy said on Thursday he had visited the flooded region.
"Many important issues were discussed. The operational situation in the region as a result of the disaster, evacuation of the population from potential flood zones, elimination of the emergency caused by the dam explosion, organisation of life support for the flooded areas," he said in a Telegram post.
"Also, the prospects for restoring the region's ecosystem and the operational military situation in the man-made disaster area."
Moscow and Kyiv also accused each other on Thursday of shelling the area, as rescue workers in rubber dinghies tried to save people and animals from the still-rising flood waters.
Russian shelling wounded at least nine people in the southern Ukrainian city of Kherson on Thursday as residents were being evacuated, Ukraine's Interior Ministry said.
In a statement on the Telegram messaging app, the ministry said the shelling had begun "precisely during the evacuation of citizens whose homes were flooded".
It reiterated accusations that Russia has abandoned people in territory it has occupied in the Kherson region, adding: "And it continues to prevent Ukraine from saving the most valuable — human lives."
The Prosecutor-General's office said it had opened a war crimes investigation and that another four people had been wounded in a nearby village.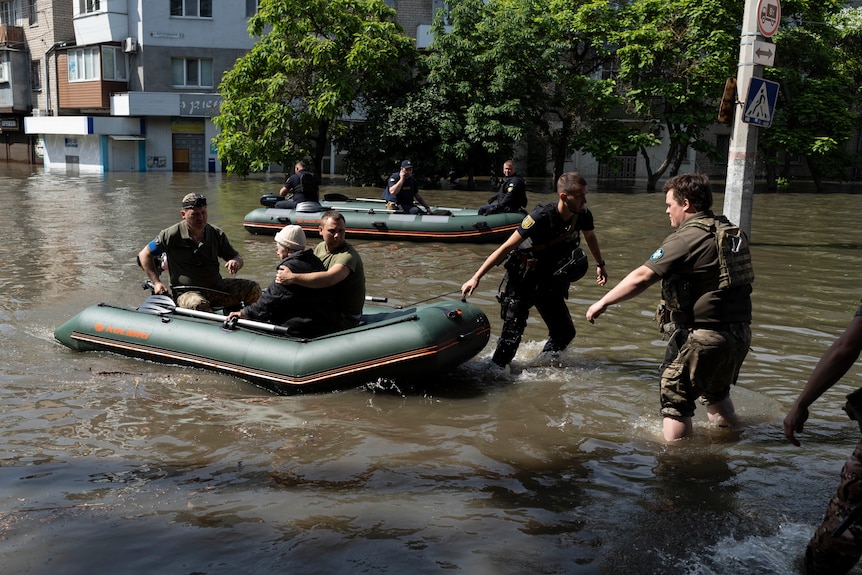 A Reuters reporter in Kherson said he could hear what appeared to be artillery fire but could not immediately provide further details.
The Kremlin similarly accused Ukraine of shelling Russian rescue workers in the area, without providing evidence.
Concern for mines 'somewhere downstream'
The Red Cross says mines uprooted and dispersed by floodwaters surging downstream could pose a grave danger to civilians for decades to come.
Water has also washed over countless land mines sown during the 15-month war and nobody now knows where they are.
They could still be in the minefields or could be stuck in the river mud or in fields, gardens and roads across a vast area.
"In the past we knew where the hazards were. Now we don't know. All we know is that they are somewhere downstream," Erik Tollefsen, head of the Weapon Contamination Unit at the International Committee of the Red Cross, said.
"It is with a certain horror that we look at the news coming out."
Mr Tollefsen said two mines found underwater in Denmark in 2015 were still active.
Besides anti-personnel mines, both sides have used vast amounts of artillery shells and anti-tank mines.
Mr Tollefsen said the exact number of mines in Ukraine was unclear.
"We just know the numbers are massive," Mr Tollefsen said.
Mr Tollefsen said the issue with mines was not necessarily the nominal number of mines but where they were laid — especially in a heavily agricultural country such as Ukraine.
He said that areas downstream of the dam contained minefields of anti-personnel and anti-vehicle mines laid by parties to the conflict.
Ukraine's counterattack in Zaporizhzhia
Russian Defence Minister Sergei Shoigu said on Thursday that his forces had repelled large-scale overnight attempts by Ukrainian troops to break through the front line in the southern Zaporizhzhia region, and had inflicted heavy losses on them.
Reuters could not independently verify Mr Shoigu's battlefield account, and there was no immediate comment on the situation from the Ukrainian Defence Ministry.
Some Russian and Western officials have suggested that Ukraine has this week launched its long-awaited counter-offensive against Russian forces, something Kyiv has not publicly confirmed.
Mr Shoigu, a close ally of President Vladimir Putin, said his forces had repelled four separate overnight Ukrainian attacks along the southern front, and that Kyiv's forces had been forced to retreat "with heavy losses".
"At 1:30am today the enemy attempted to break through our defences in the Zaporizhzhia direction with forces from the 47th Mechanised Brigade numbering up to 1,500 men and 150 armoured vehicles," Mr Shoigu said in a statement.
"The enemy was detected in time by our reconnaissance forces and a preventative strike was delivered by our artillery and aviation forces and using anti-tank weapons."
Mr Shoigu alleged that Ukraine had lost 30 tanks, 11 armoured infantry vehicles and up to 350 soldiers.
He gave even higher figures for Ukrainian losses purportedly suffered over a 24-hour period yesterday.
Reuters could not independently verify the figures.
The Zaporizhzhia region, of which around 80 per cent is controlled by Russian forces, forms part of the so-called "land bridge" — a stretch of land which connects the Russian-controlled eastern Ukrainian Donbas area with Crimea, which Moscow annexed in 2014.
Breaking the land bridge has been widely seen as one of Ukraine's principal objectives for its counteroffensive.
Vladimir Rogov, a Russian-installed official in the part of the Zaporizhzhia region which is under Moscow's control, said Ukrainian forces had tried to break through Russian lines using drones, armoured vehicles and multi-launch rocket systems.
Mr Rogov, who was speaking on his official Telegram channel, said Russian forces expected more such attacks in the coming days and weeks which he called decisive for the course of the war, something which Moscow still calls a "special military operation".
Source : ABC News