Found on every corner and renowned as one of Istanbul's favourite and oldest street foods, halka tatlisi has long been associated with the city's seedier side.
As I entered the grand arches of Istanbul's Misir Carsisi (Egyptian Bazaar) – considered by many locals to be the city's greatest marketplace – I was hit by a heady aroma of spice and kaleidoscope of colour. Moving with the current of busy shoppers sifting through a sea of produce, I spilled out on the market's backstreets where carts of stuffed mussels and barrels of stringed cheese sat alongside piles of pistachios, rose bud tea and bright pink olives. Transfixed by these treasures, I drifted, dream-like, until I spied the storied sweet I'd come in search of, beckoning beneath a pastry shop's glass.
Halka tatlisi ("ring dessert" in English) is one of Istanbul's favourite and oldest street foods. Found on every corner and said to help restore one's vigour after hours spent walking the busy streets, the circular dough that's deep-fried to a golden-brown and soaked in syrup has long been associated with the city's seedier side. And it's that connotation that gave rise to its local nickname of the "brothel dessert".
"[It's] known as a 'natural viagra'," said Turkish celebrity chef and restaurateur Somer Sivrioğlu, explaining its cheeky nickname to me.
Halka tatlisi was traditionally sold in Karakoy within the Beyoglu district on Istanbul's European side. The historical waterfront neighbourhood, formerly known as Galata, is positioned at the northern end of the Golden Horn – the main inlet of the Bosphorus Strait that has served as a shipping passage since Byzantine times.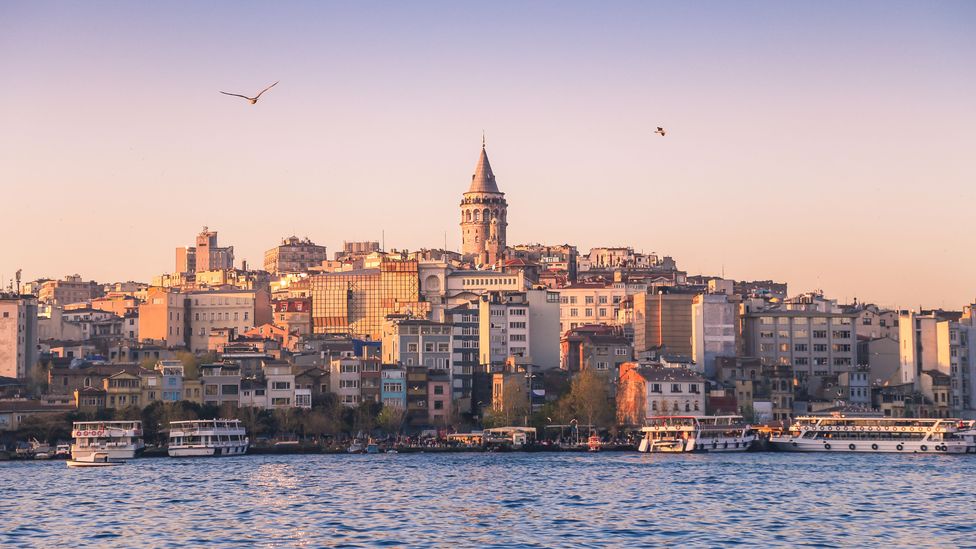 Karakoy has been a port area since Byzantine times, and was once a hub for prostitution (Credit: Thipjang/Getty Images)
Originally a colony for Genoese merchants, Karakoy became home to various immigrants from the 13th Century onwards, including a large population of Sephardic Jews, when Ottoman Sultan Bayezid II invited them to settle here following their expulsion from Spain in 1492.
As a busy port, increasingly industrialised Karakoy also became a hub for prostitution. And in 1884, when a new regulation legalised Istanbul's first brothels, this red-light district – originally intended for foreign visitors – continued to thrive for the next 137 years.
"Back when this was the old port, Anatolian tradesmen from rural areas and smaller cities would come to Karakoy for business and often visit the brothels," explained Istanbul tour guide Leyla Capaci. "Being cheap, delicious and high in sugar, the ring dessert became popular here because it's said that it
gave men the energy they needed before – and after – visiting the working women."
Even though the brothels have closed, you still see a lot of halka tatlisi vendors hanging around this area
Today, however, Karakoy looks very different. As I made my way from the viewing platform of Galata Tower, down through the cobbled backstreets, evidence of gentrification was all around. The last decade has seen warehouses converted into modern art galleries, while workshops have made way for hipster cafes, barbers and boutiques. But it's the recent closing of the remaining brothels on Zurafa Street that's the biggest indication of change – their demolition currently making way for an arts and cultural centre as part of the Ministry of Culture and Tourism's Beyoglu Culture Road Project.
"Even though the brothels have closed, you still see a lot of halka tatlisi vendors hanging around this area," Capaci said.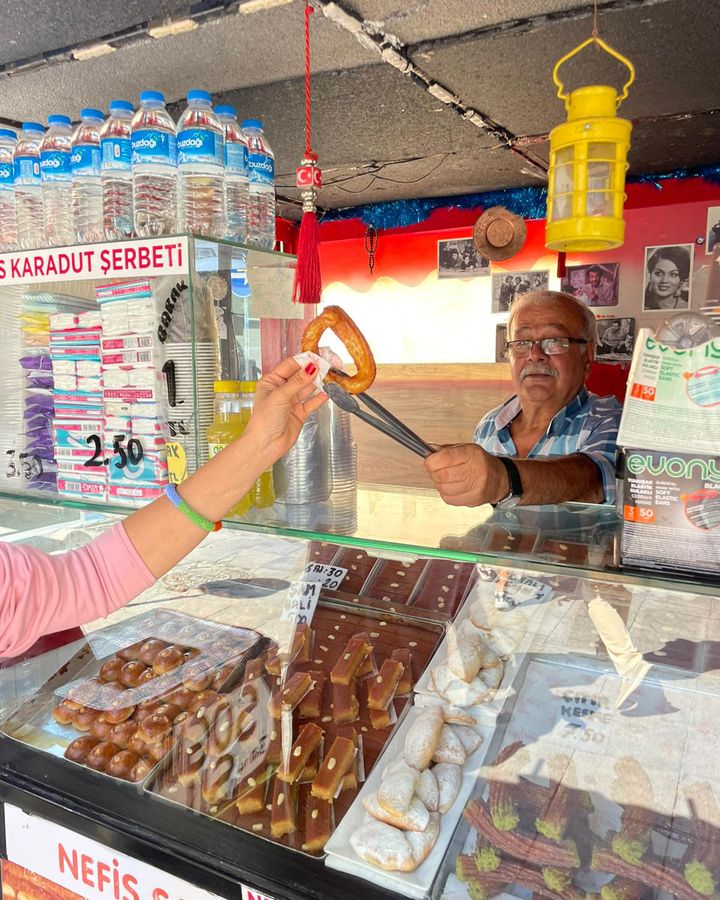 Halka tatlisi is said to help restore one's vigour after hours spent walking the busy streets (Credit: Leyla Capaci)
I soon experienced this first hand. With seagulls swirling overhead, as I strolled over the Galata Bridge and passed fishermen casting their lines out over the glittering surface of the Bosphorus, it wasn't long before I met two men making and selling the city's darling of doughnut-like desserts. As I watched them squeeze batter – traditionally made with semolina and plain flour – into hot oil through the star-shaped nozzle of a pastry syringe, I saw a familiar pattern emerging in the pan. Is the "ring dessert" simply a churro, I wondered?
"With its ridged edges, halka tatlisi is very similar looking to the churro, which is thought to have arrived with the expulsion of Spanish Jews as the result of the Alhambra Decree," Capaci told me. "The difference is that our version – often called the 'Turkish churro' – has a circular shape and is derived from tulumba tatlisi."
Tulumba tatlisi ("pump dessert" in English) is a Turkish sweet that takes its name from the pump-like apparatus or syringe used to distribute batter. Cut into small tubes before being fried and drenched in syrup, these "Ottoman doughnuts" are especially popular at celebrations such as weddings and during the month of Ramadan, giving a sugar hit to people who have fasted all day.
Although there seems to be a few theories as to halka tatlisi's exact path to Istanbul, I learned that halka tatlisi, tulumba tatlisi and churros all share a heritage in medieval Arabic cuisine, with the earliest known record of desserts of their kind stemming from a fritter called zalabiya mushabbak that appears in Kitab al-Tabikh (Book of Dishes) by Ibn Sayyar al-Warraq. Considered the most comprehensive work of its kind, this 10th-Century Baghdadi cookbook offers a rare glimpse into medieval Islam's culinary culture and the role food played during the politics of its "Golden Era", when Baghdad was a centre for scientific and cultural learning, and religious and civil leaders gathered at opulent banquets.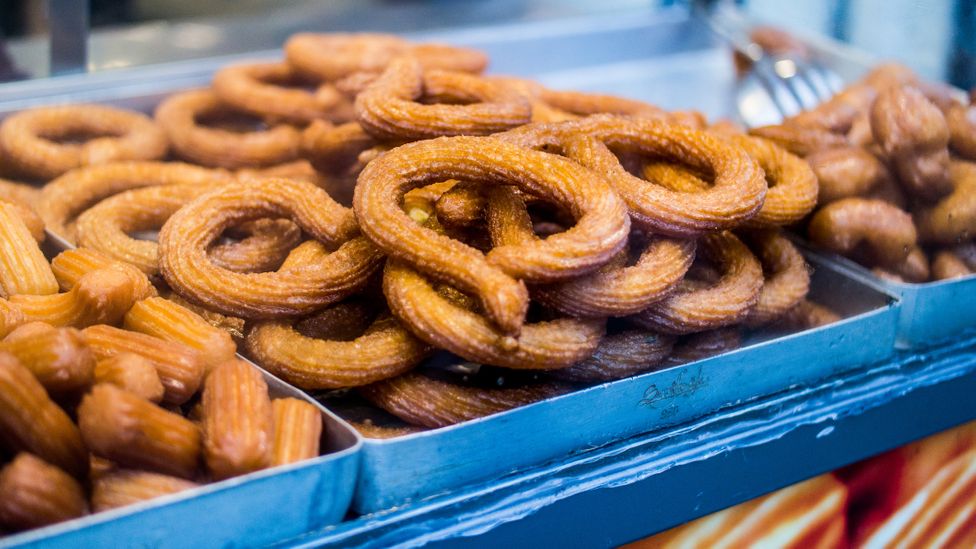 Halka tatlisi is derived from tulumba tatlisi (pictured left), and both share the same basic ingredients and method (Credit: Alpaksoy/Getty Images)
"Tulumba is indeed the same stuff as halka tatlisi except the latter is identified by its shape," explained Iraqi-born food writer and food historian, Nawal Nasrallah, who translated the ancient cookbook into English for the first time as Annals of the Caliphs' Kitchens. She explained that many dishes migrated to Istanbul when Arab cooks were employed by the Ottoman sultans to work in their elite kitchens. "And while it's quite possible that Sephardic Jews could have influenced the churro-look of this pastry with its ridged edges, we know that the fried fritters of Muslim Spain were influenced by Middle Eastern cuisine."
All these desserts share the same basic ingredients and method, where a designed instrument is used to pour batter into hot oil. "While zalabiya mushabbak was traditionally made by passing batter through a hole in a coconut shell into hot fat, halka tatlisi, tulumba and churros are formed using more modern utensils such as a kitchen syringe or piping bag to distribute the batter into the oil," Nasrallah said.
But what of these fried sweets' libidinous qualities, which gave rise to halka tatlisi being sold outside brothels? While the ingredient, rose – found in the rose water and honey syrup that historically perfumed zalabiya – is a known aphrodisiac, Nasrallah said that sugary treats in themselves were believed to enhance sexual drive.
They believed that sweets in general were an aphrodisiac – boosting libido due to their hot and humid properties
"People in medieval times followed the tenets of Galen's theory of the four humours, according to which they believed that sweets in general were an aphrodisiac – boosting libido due to their hot and humid properties," she said. "And zalabiya mushabbak was a favourite, found on the tables of caliphs as well as the busy marketplaces."
Today, while no longer sold outside of brothels, halka tatlisi continues to be a beloved street food snack for Istanbulites, found in vendors' carts, pastry shops and now restaurants.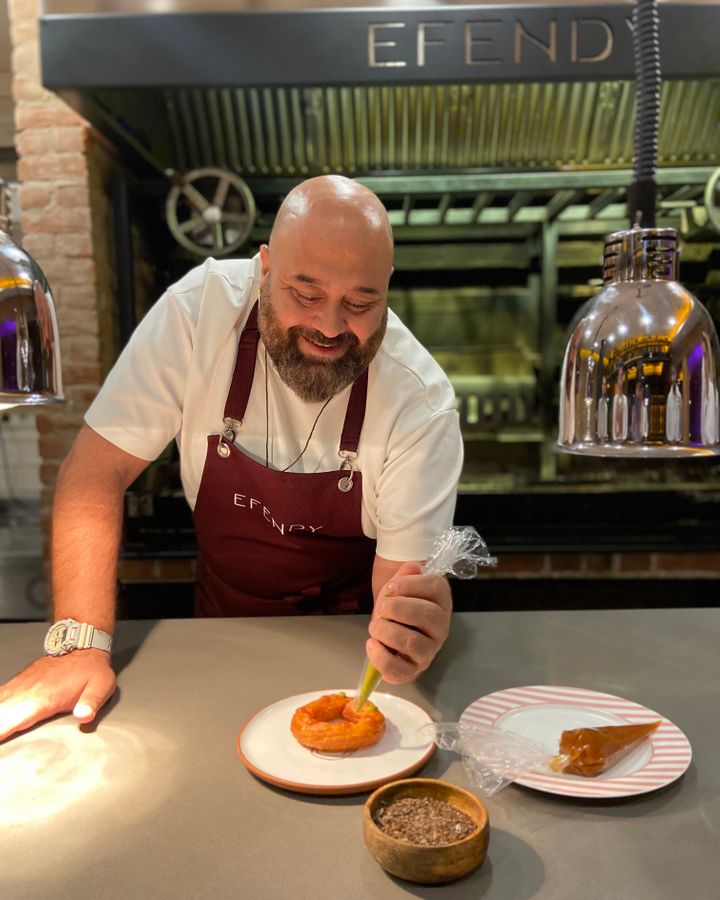 Chef Somer Sivrioglu will include an upscale version of halka tatlisi on his dessert menu at Efendy (Credit: Elif Yaren Hari)
Sivrioğlu has plans to include an elevated, modern take of halka tatlisi on the dessert menu of his newly opened Istanbul restaurant, Efendy. "Our aim is to take this common street dessert and bring it to restaurant level," said Sivrioğlu, who is known for challenging preconceptions about Turkish food.
Also a judge on MasterChef Turkiye, Sivrioğlu gave contestants a halka tatlisi challenge a few years ago when he asked them to recreate the street-food favourite.
"The filming of the challenge was lots of fun because, although it seems like a simple dessert, halka tatlisi is actually quite difficult to get right. The oil's temperature has to be just right to create the crunch on the outside and the softness inside – which proved terrible for the contestants, but great TV for us," he joked.
Sivrioğlu's new version, which uses pistachio flour sourced from Eastern Turkey in addition to the traditional semolina, comes drenched in sherbet water (a popular drink from the time of the Ottoman Empire made with fruit, sugar and water) and delicately dressed in dulche de leche. It's topped with crushed pistachio nuts, a sprinkle of sea salt from the seaside town of Ayvalik and a dollop of goat's milk ice cream.
In the affluent neighbourhood of Etiler, amid soft lighting, polished wine glasses and sophisticated guests, this elegant version of Istanbul's infamous "brothel dessert" was a far cry from the city's backstreets where I first came in search of the sweet. Instructed to eat while hot, I lifted a delicate morsel to my mouth. As the initial crunch gave way to creamy, velvety softness, an explosion of sweet delight ensued as sherbet water trickled down the back of my throat. Wickedly good, it was easy to see how this decadent dessert has endured through the centuries, giving pleasure to everyone from "sinners" to sultans.
Source : BBC News